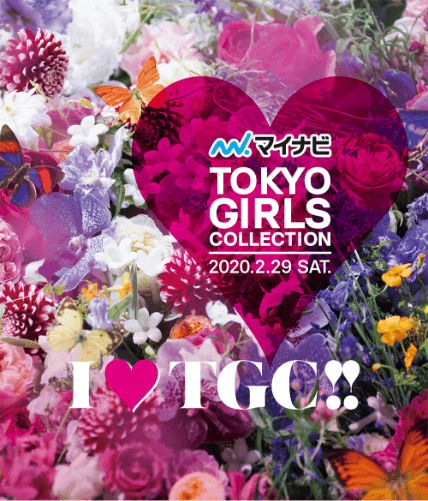 Event announcement of the "The 30th Mynavi TOKYO GIRLS COLLECTION 2020 SPRING/SUMMER"
The executive committee of TOKYO GIRLS COLLECTION (planned/produced by W TOKYO, Inc.) will hold "The 30th Mynavi TOKYO GIRLS COLLECTION 2020 SPRING/SUMMER"(hereafter TGC) on Saturday, February 29th, 2020 at Yoyogi National Stadium First Gymnasium.
The theme of the 30th Mynavi TGC 2020 S/S is "I ♥ TGC"!
TGC celebrates their 15 years and 30th anniversary in 2020. TGC is always being a trendsetter in Tokyo, and ¬¬to Japan and overseas. During 15 years, TGC is aiming to create Tokyo girls culture as one of the influential icon of Tokyo a new era of girls as Tokyo's icon of girls' culture.
TGC will have everything that girls want to know, the people they want to meet, and the things they want.The theme for this season is "I ♥ TGC". Mika Ninagawa, a famous photographer and film director who works internationally, created the key visual. It shows her unique worldview which attracts the girl's interests.

TGC is currently planning various special content stirring up the fashion/entertainment scene for the 30th anniversary! Stay tuned for more as TGC 15 years and 30th Anniversary event "Mynavi TGC 2020 S/S"!

〈About TOKYO GIRLS COLLECTION〉
TGC is one of the largest-scale fashion festivals in history. It has been held twice a year since August 2005 under the theme of "bringing Japan's girls' culture to the world." A total of about 100 famous models representing Japan in a fashion show featuring Japan's street fashion. The festival also features live performances by great artists, a special stage filled with famous guests, booths where participants can touch and try popular items, and various other content unique to TGC. TGC is gaining attention both in Japan and abroad.