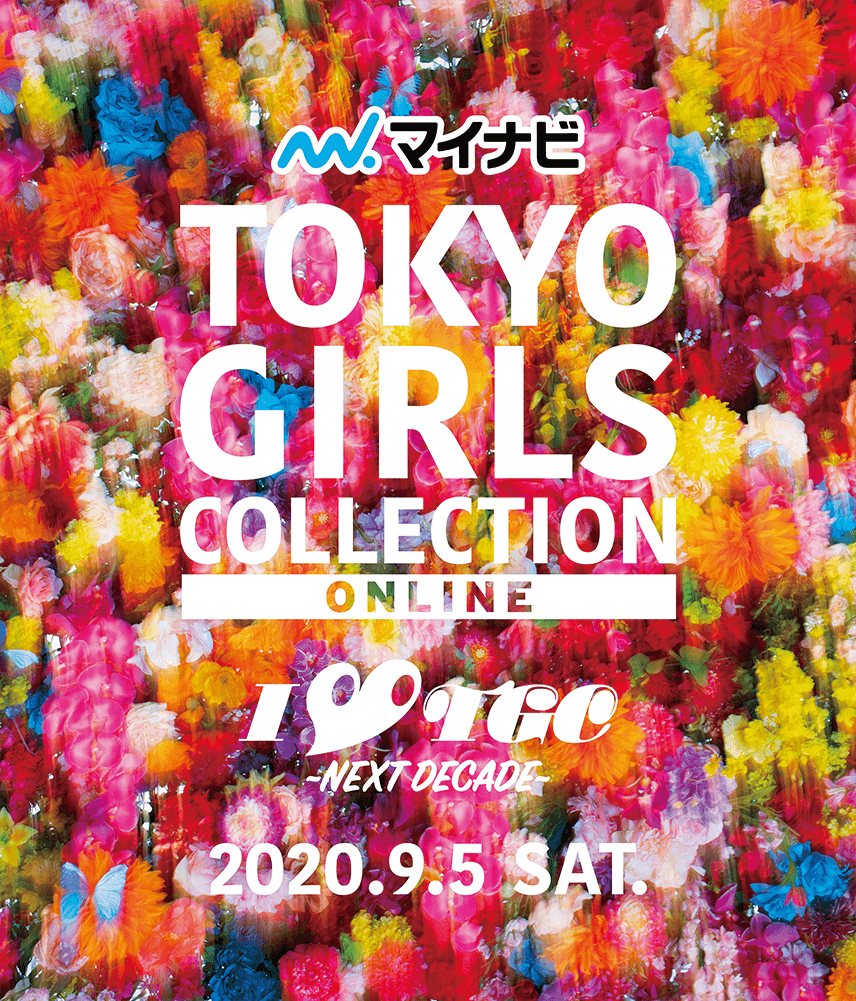 The Executive Committee of TOKYO GIRLS COLLECTION (planning/production by W TOKYO, Inc), will hold "The 31st Mynavi TOKYO GIRLS COLLECTION 2020 AUTUMN/WINTER" (hereafter Mynavi TGC 2020 A/W) on Saturday, September 5, 2020 at Saitama Super Arena.


TGC's thoughts on the revival of fashion and entertainment industry during COVID -19
With the prevention of COVID-19 spread beginning to influence daily life and shifting it towards a New Normal, fashion and entertainment industry continues to suffer economically. Through TGC, we wish to bring about a "New Normal event", a large-scale event that conforms with the rules and regulation of the New Normal and share it with the world.
To enable us to revive fashion and entertainment industry as "a platform for economic activities" where latest contents are being shared and presented, and to safely welcome guests, who have longed to physically attend an event, TOKYO GIRLS COLLECTION will implement strict infection prevention and social distancing measures in all guests and backstage areas.
As the previous TGC event was broadcasted digitally without an offline audience, we were able to see with our own eyes the possibilities that the advancement of 5G and Digital Transformation (DX) could bring to fashion and event industry. For this September event, we aim to power up our contents broadcasting further by streaming it through LINE LIVE and by providing live broadcast to audience in greater China region.
With hope that Mynavi TGC 2020 A/W could be the bridge that leads fashion and entertainment industry, and Japan as a whole, towards economic recovery, The Executive Committee of TOKYO GIRLS COLLECTION is giving its very best.
The theme of the 31st event is "I ♥ TGC ~NEXT DECADE~"In continuation of last event, the key visual this time is also designed by Mika Ninagawa
Providing latest trends and brand-new contents to the world for fifteen years. As our values and way of life begins to change with the prolonged COVID-19 crisis, the shift towards a "New Normal" is more required than ever. What TOKYO GIRLS COLLECTION can do now is to anticipate the New Normal age so that we can become a bridge towards a brighter tomorrow. Following the theme of the 30th event "I ♥ TGC", for this 31st event, we chose a theme that represents a confident step towards a graceful yet sustainable

As for the key visual, similar with last event, it will be designed by photographer and film director who has been making her name known in places across the world, Mika Ninagawa. As if symbolizing a bright future, Ms. Ninagawa's worldview is painted into this artwork.

〈Mika Ninagawa Profile〉
Photographer and film director. Received various awards including one from the prestigious Kimura Ihei Photography Award. Directed Sakuran (2007), Helter Skelter (2012), Diner (2019), and No Longer Human (2019). Her first original Netflix drama was premiered on February 27, 2020 and is currently available in 190 countries around the world. She also produced numerous visual arts. In 2008, her Mika Ninagawa Exhibition toured museums across Japan. In 2019 her photo book was published by Rizzolu N.Y. and received major attention in countries across the world. In 2016 her solo exhibition held in Museum of Contemporary Art Taipei (MOCA Taipei) broke the museum's attendance record. Her 2017 solo exhibition in Shanghai received favorable reputation. In 2018, beginning from Contemporary Art Museum Kumamoto, her solo exhibition Mika Ninagawa – Into Fiction/Reality toured various museums across Japan. She is also appointed as one of the executive board members for the 2020 Tokyo Organising Committee of the Olympic and Paralympic Games.
Official HP▶https://mikaninagawa.com


To cope with the prolonged COVID-19 crisis, TGC believes that the New Normal design and digital transformation of event industry beginning from fashion show should be accelerated. As such we are planning a content that is full of power. Do look forward for the next development of Mynavi TGC 2020 A/W