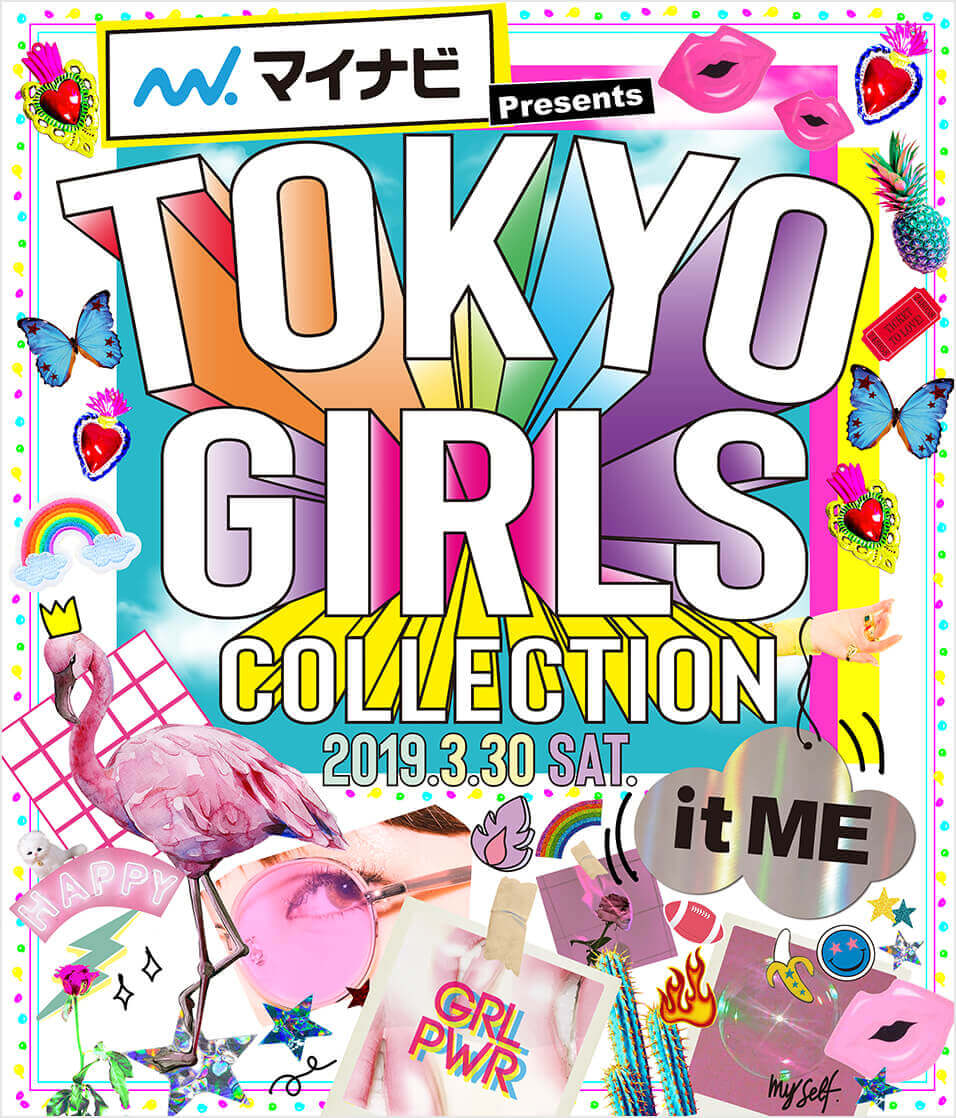 Event announcement of the "Mynavi presents the 28th TOKYO GIRLS COLLECTION 2019 SPRING/SUMMER"
The 28th TOKYO GIRLS COLLECTION (2019 SPRING/SUMMER) (hereafter "TGC") (present by Mynavi) will be held by the Tokyo Girls Collection Executive Committee (Planning/Production: W TOKYO, Inc.) on Saturday March 30, 2019 at Yokohama Arena. The official site "girlswalker" is scheduled to be renamed to "girlswalker," and the website has been updated.
The theme for this show is"it ME". The key visual is by WATARU LINDA IGARASHI.
This is 28th TGC, and held twice a year since 2005, TGC has always explored the latest trends and kept evolving, with the theme of bringing Japan's girls' culture to the world. Especially in Tokyo, "diversity" has come into focus moving towards 2020. That's why, TGC wish girls to enjoy what they like from the bottom theirs heart. And also, we believe that the next generation of girls will be colorful, shine, and the star. Wishing for such a shining future, the theme for TGC 2019 S/S is "it ME".
The key visual symbolizing this theme is by WATARU LINDA IGARASH, who has cute, original, and unconventional worldview. He puts thought into the key visual what one's like. Don't miss the colorful and pop visual! We hope to see you all at the arena!

Themed on "bringing Japan's girls' culture to the world," TGC will continue to boost the girls' fashion scene. Stay tuned for TGC's future developments as it gets ever more powerful with its 28th launch!

〈About TOKYO GIRLS COLLECTION〉
TGC is one of the largest-scale fashion festivals in history. It has been held twice a year since August 2005 under the theme of "bringing Japan's girls' culture to the world." A total of about 100 popular models representative of Japan perform in a fashion show displaying Japan's street fashion. The festival also features live performances by impressive artists, a special stage filled with popular guests, booths where participants can touch and try popular items, and various other content unique to TGC. TGC is gaining attention both in Japan and abroad.