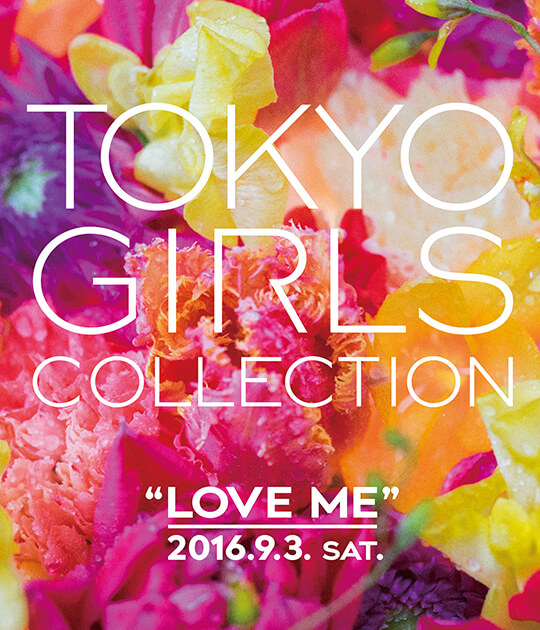 Event announcement of the "23rd TOKYO GIRLS COLLECTION 2016 AUTUMN/WINTER"
The Executive Committee of Tokyo Girls Collection (Planning/Production: W media Inc.) will hold the "23nd TOKYO GIRLS COLLECTION 2016 AUTUMN/WINTER" (hereafter, TGC) at Saitama Super Arena on Saturday, September 3, 2016.
"LOVE ME" is the theme of this festival! Collaboration with Mika Ninagawa is coming true!
For the 23rd TGC 2016 A/W, we have invited the photographer/movie director Mika Ninagawa to design the theme and key visual. The theme of this festival is "LOVE ME", carrying the message "Working hard to become who you want to be and love yourself, is something very lovely and cool."
Ninagawa designed the key visual with vivid flower to express the theme "LOVE ME." We hope you will enjoy the prominent stage unique to TGC, such as fashion show by many popular models, live performances of highly acclaimed players, and special stages featuring distinguished guests!
The popular models like Elaiza Ikeda, Mayuko Kawakita, Risa Nakamura and Loveli are walking the stage. Five members from Nogizaka 46 including Mai Shiraishi are joining!
As the main models who are significant in delivering the latest trend, we have selected Elaiza Ikeda, teenagers' favorite icon whose selfie "Elaiza pose" got on a fad, Risa Nakamura, daughter of the actor Masatoshi Nakamura and just debuted as leading actress in the movie released in May, Mayuko Kawakita, whose show biz work does not confine in modeling but also on variety shows, Nicole Fujita, and Loveli. Also, we are inviting members of Nogizaka 46 who are also popular for their modeling work, including Asuka Saito, Mai Shiraishi, Nanase Nishino, Nanami Hashimoto, and Sayuri Matsumura. These gorgeous models will lively color up the runway of TGC 2016 A/W!

On Saturday, September 3, 2016, Saitama Super Arena will be filled with "girl power" by the models, artists, guests, and the girls in the audience. The influence of TGC is continuously growing, and we appreciate your attention to upcoming events.